Clean Room Designing Services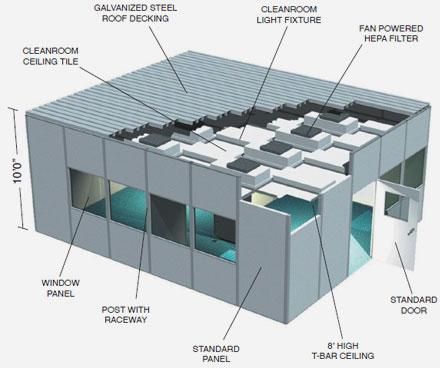 Kaizen Airtech solutions specialised in industrial air treatment design, we provide complete clean room solutions but we can also provide independent clean room and OT design as per customer requirement. We are always very happy to share all precious knowledge of respective work & we want to give your lifetime Technical support. We design each project while applying technical solutions that offer optimum energy efficiency in both production and energy transport. Our designed cleanroom are Modular, flexible systems with an optimum quality-price ratio and global management.
A typical cleanroom is designed to keep the outside environment from getting in. Once an environment has been built, the two things that cause contamination in it are the people and the process. So, what contamination is generated by people, and what contamination is generated by the process is what needs to be determined.
Often times one can build a lower classification of cleanroom, though still maintain a cleaner environment by enhancing operations within the cleanroom – for instance, garmenting workers to a higher standard. Positioning return air grills and filtration systems at optimal locations within the cleanroom can result in cleaner areas within the environment, thus bringing the cleanroom classification to a lower level in those areas. Understanding the contamination sources and combating those with solid cleanroom design and enhanced operations can provide significant cost savings from both construction and operational standpoints.
Read More...
Looking for "
Clean Room Designing Services

" ?